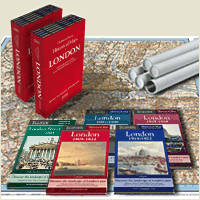 Box size: 139mm x 230mm x 53mm
Map covers: 4-colour gloss laminated
Map sheets: 4-colour; 2-colour (OSE)
Maps (when folded): 135mm x 226mm
Maps (when flat): 1000mm x 890mm

Printed in the UK by Ordnance Survey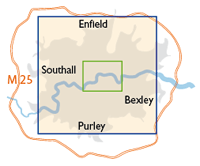 Five enlarged and digitally enhanced reproductions of historical maps from 1805 to 1946.

• Four maps created from original Ordnance Survey sheets showing entral London and outer suburbs from four periods.
• One map created from original Stanford's Library Atlas sheets showing Central London in 1891 at street-level.
• National Grid on 1:50,000 maps for ease of reference.
• Contemporary illustrations
• Historical notes.
• Robust binding and box construction.
• Available individually or as an attractive presentation box-set.
| | | |
| --- | --- | --- |
| London 5-map Box Set | London 1805-1822 | London 1897-1898 |
| | | |
| | | |
| London 1919-1922 | London 1946-1948 | London Street Map 1891 |
| | | |
| | | |
| West London 3-map 1805-1922 | East London 3-map 1905-1922 | |
| | | |
| | | |

The maps span 150 years of London's rich history from 1805 to 1946.They reveal how the capital engulfed surrounding villages to become, for much of this period, the largest city in the world.

Each 1:50,000 map explores a crucial period in London's recent history: the late Georgian (1805-22), the late Victorian railway era (1897-8), the dawn of the motoring age (1919-20) and the period of reconstruction following the Second World War (1945-6). Cartographical and historical notes provide background information. A more in-depth view of late-Victorian central
London is provided by the Street Map.

Each of the four 1:50,000 maps covers an identical area (see blue box, right). The Street Map covers the area shown by the green box and extends from Hyde Park to the Isle of Dogs and from Highbury Fields to Brixton.


ENDORSEMENTS
Richard Oliver
Research Fellow in the History of Cartography, University of Exeter
These maps show the transition from an essentially small city at the start of the 19th century, with most people living within walking distance of their work, to a city in which most people lived a considerable distance from their work in vast suburbs, connected to the centre by numerous railways. Though often regarded as 'typically Victorian', railways were still being built well into the 20th century, and this process is graphically recorded on these maps. Taken together, they give a vivid sense of growth.
Peter Barber MA, FSA, FRHistS
Head of Map Collections, British Library
The Cassini Historical Maps of London Box Set is an exciting introduction to London's past. They are extremely accessible because they are clearly printed and have been adapted to bring them to the same scale and coverage as modern OS Landrangers 176 and 177. This means that Ordnance Survey's traditional separation of the London area onto several sheets has been overcome. You can see the whole of London at a glance and nowhere in the Greater London area is off the map! It could hardly be easier to identify where you live and how the neighbourhood has developed over the past 200 years. The maps also include expert but accessible texts by experts giving clear information about the history of London in the period depicted on the maps and on Ordnance Survey mapping. The maps can be easily handled and stored, making them a lovely addition to anyone's bookshelf.

These maps will be particularly fascinating for those in outer suburbs developed after 1918 showing in full colour what the neighbourhoods were like before development took over. They will be of great use to local historians not only because they show change over time but because the maps include unexpected detail and precious information on local history between the early 19th century and the 1940s: you can see where smithies used to be (are there petrol stations on the site today?), the location of old pubs (which may not survive), post offices and – perhaps most important- the farms and country estates of wealthy merchants which have usually been built over, but whose boundaries often dictate the lines of existing roads. See, for instance, in the neighbourhood of Southgate, how the core of the Grovelands estate has been preserved as a park, with the house, an early work of John Nash, still surviving where the numerous neighbouring parks, to be seen on the 1805/1822 and 1898 maps, have now vanished almost without trace. The New River can be seen crossing Hornsey High Street in no less than three placed on the 1805/1822 map, but by 1898 its course had been altered to avoid the High Street entirely. Walk the High Street today and the map explains why the road dips where it still does.

Old maps of the sort published by Cassini are an excellent introduction to local history throughout the United Kingdom because they focus the user's attention on the sort of unexpected questions that act as starting points for research. "Well, I never knew that there was a house in that location 200 years ago". "I never realised that xxxx Road followed a different course 150 years ago . . . why?". Of course, detailed local histories will probably contain the answers to some of these questions – but they hardly ever force them on you as vivdly – and attractively – as old maps. And, in some cases, you will find yourself asking questions that even the standard histories do not answer. So, before consulting those published histories, look at the maps!