CLAIM A PERSONALISED PAST & PRESENT MAP OF YOUR HOME AND AREA, WORTH UP TO £15.95. Just pay p&p
These unique Past and Present Ordnance Survey maps show your postcode from the Old Series Edition maps first published between 1805 and 1874, alongside their present-day equivalent, giving a fascinating insight into the changing landscape.
And the Past and Present Map together makes it easy to make direct comparisons between then and now, letting you discover what has changed and what has not. Numerous features of the past still surround us, waiting to be re-discovered. These maps help point out the way.
Each beautiful map is inscribed with the date it was originally published and available as either A3 or A4 prints. They are a fantastic way of showing the history of your home.

Upgrade to a Framed Map from just £19.99 + P&P – normally £44.95
or to a Deluxe Framed Map for just £34.99 + P&P – normally £95

The maps make unique, personalised keepsakes, ideal as gifts.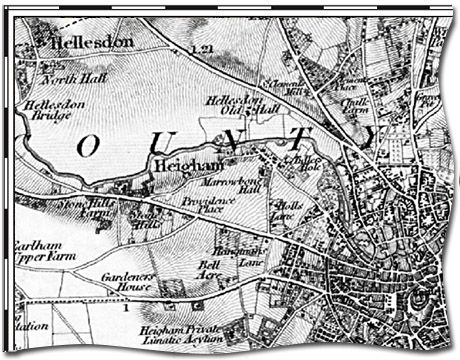 About the maps

The Old Series maps were the result of the first ever national survey of England and Wales. From the late 1790s until 1874, a small army of surveyors covered every corner of the what was still an almost entirely rural country. Their work provided a stunning portrait of the landscape, with every farm, track, copse and hamlet recorded. Many of these features would have been unchanged for centuries, reminders of ancient patterns of settlement dating back to Saxon times. The maps elegantly capture the age of the canal, the coaching inn and the horse-drawn cart: the final decades of an agrarian society that was soon to be over-run by new transport links, rapid population growth and urban expansion.

The period these maps cover also became one of enormous change. The demographic shifts caused by increased wealth and the industrial revolution had already made existing maps largely useless, but much of the underlying fabric of the past was still intact. Ancient roads were being augmented by the recent revolutions of the canals and railways, and these advances in transport and communication did much to encourage both the demand for the maps and the ability to create them. The Old Series maps are thus a record of Britain on the eve of a momentous transition from its centuries-old agrarian past towards its dramatic 20th century urbanisation.