Revised New Series (Coloured Edition)
Created from eight Ordnance Survey Revised New (Coloured) maps first published between 1897 and 1898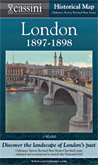 By the end of the 19th century, London was home to over five and a half million people, about 20% of the population of England and Wales. This map shows a metropolis that had over the preceding decades burst out of its centuries-old concentration around Westminster and the City to extend from Ealing to West Ham and from Tottenham to Croydon. London was now comfortably the largest city in the world and the capital of a vast empire with footholds in every continent. It was still growing, spreading itself out in every direction apart from the river-side marshlands of Kent and Essex, knotting together ancient villages and towns in a vast and uncontrolled urban sprawl.

The most eye-catching feature of the map, however, is the railway network. The impact of the railways on the development of Britain in general and London in particular in the late 19th century can hardly be overstated. They are very clearly marked on the map, radiating out from the centre with loop lines creating a complex network in the inner and outer suburbs. They profoundly influenced the city's patterns of development, enabling people to live beyond walking distance from their place of work and so allowing London to expand without chronic overcrowding. Through the railways, the suburbs were born: the map helps show how this came about.

The late 19th century may have been the age of the railway engineer and the house builder, but open countryside still occupies the majority of the map's area. Numerous farms cluster round the built-up region which provided ready markets for their produce, and as many villages still survived within a few miles of the city. Comparisons with other maps in this series and with the city of today show what has changed, but also what has stayed the same, The bird's-eye view of central London's railways and street plan is fascinating: so too is the far more ancient pattern of settlement that surrounds it.